Zenwise Health Green Tea Extract with Vitamin C
Vegan & Non-GMO
Focus
Support
Energy
Metabolism
Immune
+725 mg Green Tea Extract
Dietary Supplement
Third-Party Tested
Gluten Free
Last updated on 2021-09-20 3:14 pm
Zenwise Health Green Tea Extract contains our specialized caffeine-free blend of Green Tea Extract (725mg) and Vitamin C (60mg). Green Tea Extract has been shown to support weight loss and healthy cholesterol to promote cognitive and cardiovascular wellness for men and women. Vitamin C with the polyphenols of Green Tea can help increase antioxidant protection to promote a stronger immune system and healthier living.
An Advanced Green Tea Supplement for Weight Loss – Green tea has been long respected as an overall health enhancing supplement. Found in many fat burner diet formulas, green tea has the power to provide a gentle metabolic boost while also providing you with a little extra energy. This supplement is heart healthy and boasts essential benefits for women and men alike.
Get an All-Natural Boost from Decaffeinated Green Tea – Our unique capsules feature decaffeinated green tea extract so that you can enjoy all the benefits of this powerful tea without the drawbacks of consuming an abundance of caffeine. With this natural energy booster supplement, you won't experience any jitters or caffeine crashes when taking this supplement.
Experience a Free-Radical Fighting Boost from Vitamin C – The vitamin C added to our Green Tea Extract supplement works with the polyphenols in green tea to combat free radicals. This means protection against aging and tissue damage that can contribute to serious illnesses.
Embrace the Anti-Aging Benefits Offered by EGCG – The EGCG found in our Green Tea Extract is a known powerhouse against both free radicals and aging. Safe and effective for both men and women, it can help you feel and look younger.
Enjoy a Boost That's Safe & Cruelty-Free – Our decaf Green Tea Extract supplements are made in FDA-approved facilities that carry both GMP and NSF certifications.
Maximum Potency Green Tea, Plus Vitamin C – This natural blend of Green Tea Extract (with EGCG catechin + Polyphenols) and Vitamin C supports immune function, skin, energy, and weight for men and women.

Powerful Immune Support – Featuring 98% Polyphenols and 60 mg of Vitamin C, this formula contains powerful antioxidants that make this daily supplement the best boost for your immune system.

Better Memory & Focus – The properties in Green Tea Extract can help to increase cognition and memory processing to give your brain the fuel it needs to feel sharp and focused for your busy day.

Healthy Skin, Heart & Liver – This dual antioxidant complex may help with loss of skin elasticity for anti aging support, while also promoting cardiovascular health and optimal liver function.

Better than a Cup of Tea – This Green Tea Extract supplement has the same amount of healthy catechins as SIX cups of tea. Here's to a healthier you without the brew.
How we got our start?
We know many people suffer from health concerns impacted by diet and nutrition, and that everything we eat and process influences our well-being. Yet, no brands ever address these concerns from a "Zen" perspective – a spiritually AND physically connected way to wellness. We're here to change that.
What makes our product unique?
Our "Zen" approach to holistic wellness delivers functional nutrients and supplements that harmonize with the true nature of our bodies' systems – particularly the digestive tract – to keep your well-being in balance so you can recover and maintain your health.
Why we love what we do?
Zenwise has created a variety of dietary supplements that have attained top seller status, along with several 1,000's of positive online reviews. This not only makes us enormously proud, but it also reaffirms our belief in the "wisdom of nature" as the wisest approach to being truly well.
Compare Offers for Zenwise Health Green Tea Extract with Vitamin C
Full Specifications
| | |
| --- | --- |
| Gender | Unisex |
| Primary Ingredient | Green Tea |
| Food Form | Capsules |
| Manufacturer | Zenwise Health |
| Count | 120 |
| Price Per Unit UOM | Each |
| Model | 856521007338 |
| Brand | Zenwise Health |
| Number of Customer Ratings | 213 |
| PPU Quantity of Units | 120 Each |
| Vitamin & Supplement Type | |
| Count Per Pack | 120 |
| Product Name | Zenwise Health Advanced Green Tea ExtraCt with Vitamin C, 120 Ct |
| Flavor | Unflavored |
| Manufacturer Part Number | 856521007338 |
| Fitness Goal | Lose Weight |
| Category | Other Temporary Classification |
| Features | 120 Vegetarian Capsules |
| Assembled Product Weight | 0.28 oz |
| Assembled Product Dimensions (L x W x H) | 2.25 x 2.25 x 4.25 Inches |
Watch video about Zenwise Health Green Tea Extract with Vitamin C
ZENWISE LABS - Advance Green Tea Extract
Another green tea extract supplement and this time it has vitamin C to tag along with it. Let me know what you people think about this green tea supplement.
Advanced Green Tea Extract + Vitamin C Review
Buy Here! https://www.zenwiselabs.com/products/green-tea-extract.
Please follow and like us: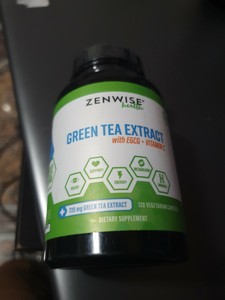 Zenwise Health Green Tea Extract with Vitamin C