Total Soy Chocolate Weight Loss Shake
Amazing Taste, Fewer Carbs per Serving, More Dietary Fiber

47% Less Sugar, 13g Protein, 24 Vitamins & Minerals

0 Trans Fat, Lactose-Free

Gluten-Free, Non-GMO Soy
Last updated on 2021-09-16 8:17 pm
DescriptionTotal Soy Chocolate Meal Replacement is a low 140 calorie light meal alternative. Each delicious Chocolate shake delivers:13 grams of protein24 vitamins and minerals2 grams of fiber0 Trans Fat47% less sugarLactose-freeGluten-freeNon-GMO SoyAs a meal replacement, Total Soy may promote weight loss, reduce cholesterol and reduce your risk of Heart Disease, the #1 cause of death in the United States. One 8 oz. shake replaces one meal.
SpecificationsSoy protein meal replacementJust one shake provides 1/2 of your daily soy proteinPromotes weight lossMay reduce cholesterolProvides 13 g high quality soy protein, 24 vitamins and minerals and 2 g fiber0 trans fatLow 140 calories per servingRich chocolate flavor tastes greatAdd to milk, soy milk or waterGreat for adding protein to baked goods and other recipesOne 8 oz. shake replaces one mealHealthy weight loss, measurable resultsNaturade Total Soy, Chocolate (3 lbs.)
Now more than ever, we're constantly on the go and don't always have time to eat a perfectly balanced meal. If you're busy and don't find time to eat during the day, Naturade Total Soy provides the equivalent nutrition of a healthy well balanced meal, to include an optimum mix of protein, fat, carbohydrates, micro nutrients, plus 24 vitamins and minerals. You will feel full until the next meal, helping you avoid unhealthy snacking.
Formulated with you in mind
Each delicious Total Soy shake is packed with 13 grams of premium, Non GMO soy protein and has no cholesterol. It is gluten free, yeast free and contains no aspartame, no MSG, no lactose and no egg.
If being overweight is an issue, reducing weight can be beneficial to your health. We all know that if we want to lose weight we need to slash calories. Our tasty shake provides all the nutrition of a complete meal, with only 130 calories per serving, so you can replace one meal a day and cut calories. Add some physical activity and you'll be on your way to success.
Compare Offers for Total Soy Chocolate Weight Loss Shake
Full Specifications
Watch video about Total Soy Chocolate Weight Loss Shake
iHerb/Naturade, Total Soy, Weight Loss Shake, Horchata
iHerb 아이허브 Use Rewards code MJB214 for $5 off on your first iHerb purchase! http://www.iherb.com?rcode=MJB214 안녕하세요~ 아이허브 추천코드 MJB214 ...
Naturade, Total Soy, Meal Replacement
BUY FROM https://www.iherb.com/pr/Naturade-Total-Soy-Weight-Loss-Shake-Chocolate-1-2-lbs-540-g/37089?rcode=BGQ995.
Please follow and like us: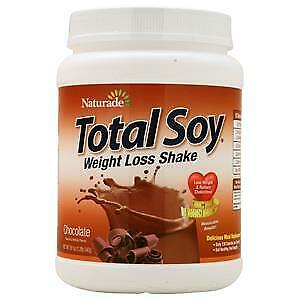 Total Soy Chocolate Weight Loss Shake