RSP Nutrition QuadraLean Non-Stim
Clean Active Nutrition
Weight Management
Stimulant Free
Metabolism Booster
Appetite Support
Third-Party Tested
50 Total Servings
Quality Assurance
Dietary Supplement
Last updated on 2021-09-18 12:31 pm
RSP Nutrition QuadraLean Non-Stim
WHAT IS IT?
Quadralean is a stimulant-free weight management solution designed to support weight management, lean muscle gain, metabolism enhancement, and appetite support.
WHAT DOES IT DO?
Quadralean uses transparent, scientifically-proven, and efficaciously-dosed ingredients that aid in weight management without relying on stimulants to enhance metabolism. This means you get natural results without needing to cycle, time, or taper your supplement use. QuadraLean works to accelerate the metabolic rate while helping to support a healthy appetite. Together this aids in weight management, while maintaining lean muscle gains. Being stimulant free,it is extremely versatile. It can be stacked with other supplements, and can be taken close to bed.
HOW DOES IT WORK?
Quadralean boasts only the most cutting-edge ingredients, including but not limited to: – CLA, which is a naturally occurring derivative of the essential fatty acid linoleic acid. It has been shown to assist in improving body composition by reducing body fat, improving lean muscle mass, and may also play a role in reducing high cholesterol. – Acetyl-L-Carnitine, which is a naturally occurring amino acid that plays a major role in energy production. It is found in all of the cells in the body and it works by helping the body oxidize and burn body fat for fuel. Additionally, since the heart relies heavily on fatty acids for fuel, carnitine has been shown to benefit overall heart function. – Green Tea Extract, which consists of the naturally occurring compounds found in green tea – namely, antioxidants called catechins. These potent compounds have demonstrated effectiveness in assisting weight management through increasing metabolism/fat oxidation, inhibiting fat cell development, and increasing the production of noradrenaline.
STIMULANT FREE WEIGHT MANAGEMENT
Manage your weight, maintain lean muscle and push towards your goal physique anytime of day with support from QuadraLean's scientifically researched, stimulant-free ingredients.
METABOLISM & APPETITE SUPPORT
QuadraLean's pillar ingredients target all key factors of weight management including increasing energy expenditure, boosting metabolism, minimizing fat storage, and supporting a healthy appetite.
CLEAN, NATURAL ENERGY
Power through your most strenuous workouts with a boost of safe, stimulant-free energy from Green Tea Extract. With no jitters or crash – it's safe for use any time of day.
All-In-One Weight Management Formula
Research proven ingredients designed for men & women to help burn fat and lose weight while preserving lean muscle mass and boosting energy.
Stimulant-Free Weight Management
Unlike most weight management supplements, QuadraLean uses only effective, high quality ingredients without caffeine so that it can be used any time of day.Natural Appetite Support
QuadraLean not only helps promote natural weight management, but it also supports a healthy appetite.
Suggested Use
Take three capsules on an empty stomach twice daily. For best results, take 30-60 minutes before meals with the first serving before breakfast and the second serving before exercise. Do not exceed 6 capsules in a 24-hour period.
Other Ingredients
Gelatin, plant cellulose, silicon dioxide, magnesium stearate.
Contains milk.
Warnings
For adult use only. Do not use this product if you are pregnant or lactating. If you are taking  medication or have a medical condition, consult  a physician before using this product. Discontinue use two weeks prior to surgery.
Disclaimer
While iHerb strives to ensure the accuracy of its product images and information, some manufacturing changes to packaging and/or ingredients may be pending update on our site. Although items may occasionally ship with alternate packaging, freshness is always guaranteed. We recommend that you read labels, warnings and directions of all products before use and not rely solely on the information provided by iHerb.
Compare Offers for RSP Nutrition QuadraLean Non-Stim
Full Specifications
| | |
| --- | --- |
| Gender | Unisex |
| Primary Ingredient | CLA, Green Tea |
| Food Form | Pills |
| Capacity | 150 capsules |
| Manufacturer | Rsp Nutrition |
| Count | 150 |
| Price Per Unit UOM | Each |
| Color Category | White |
| Model | RSP00669 |
| Brand | RSP Nutrition |
| Height | 5.25 |
| Number of Customer Ratings | 41 |
| PPU Quantity of Units | 150 Each |
| Recommended Use | Take three capsules on an empty stomach twice daily. |
| Vitamin & Supplement Type | |
| Count Per Pack | 1 |
| Product Name | |
| Flavor | Unflavored |
| Depth | 3.10 |
| Size | 150 ct |
| Form | Pills |
| Manufacturer Part Number | RSP00669 |
| Color | White |
| Width | 3.10 |
| Fitness Goal | |
| Category | Other Temporary Classification |
| Features | Zero Stimulants, Zero GMOs |
| Assembled Product Weight | 6 oz |
Watch video about RSP Nutrition QuadraLean Non-Stim
RSP Quadralean | Science-Based Overview
RSP Quadralean is a stimulate-free weight-loss product that contains raspberry ketones, garcinia cambogia, and conjugated linolenic acid. If you're someone ...
RSP QUADRALEAN DIET PILL UPDATE | Is It Still Working?
Thanks for watching! Keep Up With Me: Instagram: eliseeedaniella Snapchat: elisedaniellaj5 DIET PILL: ...
Please follow and like us: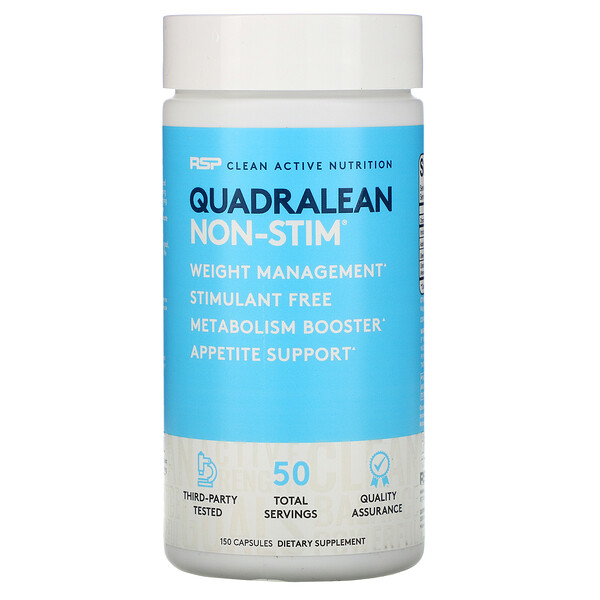 RSP Nutrition QuadraLean Non-Stim