LifePro Rumblex 4D Vibration Plate Exercise Machine
MULTIPLE HEALTH BENEFITS: LifePro Rumblex 4D vibration plate increases fat loss, improves muscle tone and bone density, shortens recovery time and soothes pain
WHOLE BODY VIBRATIONS: Vibrations travel throughout the body, strengthening the core and boosting circulation to speed up cell repair
MULTIPLE VIBRATION OPTIONS: powered by 3 motors, the vibration plate exercise machine offers several program choices to meet your needs and help achieve individual goals; choose from lateral motion, pulses, lateral pulses, a 4D spiral or a combination of 2 modes
EASY AND SAFE TO USE: whole body vibration plate includes a Bluetooth watch remote and features a digital LED control interface; the anti-slip rubber mat has foot placement markers and a non-slip surface while suction cups on the bottom provide additional stability
Last updated on 2021-09-26 10:28 pm
Get more out of your fitness regimen and shorten your recovery time with the LifePro Rumblex 4D Vibration Plate. Vibrations generated by three motors travel throughout the body, boosting circulation and improving density while also releasing tension in tense muscles. This vibration platform machine is suitable to use while standing and doing exercises with the included resistance bands or for sitting and relaxing. An LED interface and a Bluetooth watch remote make it easy to use. You can even stream your favorite music through built-in speakers.

THE MOST COMPREHENSIVE VIBRATING PLATFORM ON THE MARKET: Whether you're looking to improve bone density, lose fat, build muscle tone, recover from an injury or surgery, or relieve chronic pain, the Rumblex makes the perfect partner. Amongst its many benefits, this whole body vibrating platform calms the nervous system, greatly improves bone density, and strengthens your core for greater balance. Get all the benefits of a therapy session from the comfort and convenience of your home.

RECOVERY, FULLY LOADED: The Rumblex comes with everything you need to make your recovery journey a success. Lifepro's Guiding Angel program offers real, LIVE support, plus access to a comprehensive library of hands-on training videos. Included with the platform accessories and features that take your workout to the next level, from a watch remote, to built-in Bluetooth speakers that stream your favorite workout tunes, to an exercise mat and 4 bonus resistance bands, and more!

RELIEF, REHABILITATION, & REPAIR: The Rumblex delivers efficient and gentle Whole Body Vibrations (WBV), waking muscles throughout the body and increasing blood flow and oxygen delivery to the muscles. This, in turn, enhances your body's built-in ability to regenerate cells and repair itself. Relief is felt from the first session, and continued, regular use builds up muscle tone, protecting nerves and bones, relieving chronic pain, repairing old injuries, and providing greater range of motion.

3 TOP-OF-THE LINE MOTORS, 7 TRAINING MODES: We built the Rumblex with 3 robust motors that deliver 4 dimensions of therapeutic vibrations. Depending on your injury and recovery goals and what you find most comfortable, you can choose between 3 distinct motions or any combination and pairing of the 3.

A LIFETIME OF RECOVERY: Every platform bearing our name undergoes rigorous scrutiny to make sure it delivers on power and efficacy and a built-in 100% lifetime warranty so you're never left hanging.
Compare Offers for LifePro Rumblex 4D Vibration Plate Exercise Machine
Full Specifications
| | |
| --- | --- |
| Brand | Lifepro |
| Color | Blue |
| Manufacturer Part Number | LPRMXBLU |
| Assembled Product Weight | 42 lb |
| Manufacturer | LifePro |
| Model | LPRMXBLU |
| Assembled Product Dimensions (L x W x H) | 31.10 x 18.10 x 7.30 Inches |
Watch video about LifePro Rumblex 4D Vibration Plate Exercise Machine
Rumblex 4D Vibration Plate
We test out the Lifepro Rumblex 4D Vibration plate and why we are now using it every day. See how this could help you feel a little bit better by checking out the ...
Rumblex Plus 4D Vibration Plate Exercise Machine Review, LifePro Rumblex 4D Vibration Platform
Rumblex Plus 4D Vibration Plate Exercise Machine Review, LifePro Rumblex 4D Vibration Platform ▻ Amazon Shop Link: ...
For More Free Recipes, Videos, and eBooks please Sign up and we will sent them straight to your inbox. Enter Your Email Here
You can get also your custom Keto Plan from Here
Please follow and like us: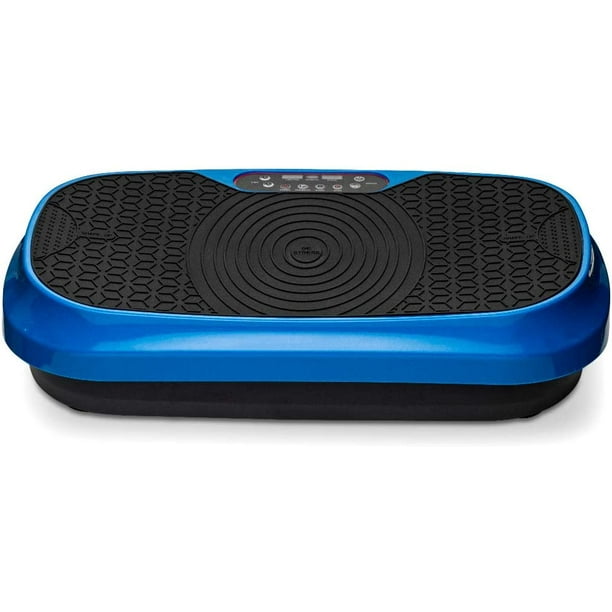 LifePro Rumblex 4D Vibration Plate Exercise Machine