Irwin Natural Buffered Belly Fat Burner
Super Citrus Lipo-Burner®
Helps Breakdown Stored Fat
Featuring Sinetrol® with Grapefruit, Sweet Orange & Blood Orange
Dietary Supplement
Last updated on 2021-09-12 4:15 pm
Irwin Natural Buffered Belly Fat Burner
Stored-Fat Belly Burner‡ is a truly unique weight management formula. At the heart of this unique weight management product is Sinetrol®, a powerful ingredient that has been clinically researched for its ability to metabolize stored fat in the body, including stubborn areas, such as the belly, waist and hips.
It works by stimulating Lipolysis, a catabolic process leading to the breakdown of triglycerides store in the fat cell (adipocytes), releasing free fatty acids (FFA). Sinetrol reduces body fat to help you reach and maintain a healthy body composition.
This product also includes other prized fruits such as Grapefruit, Sweet Orange, Blood Orange, Lemon Peel and Tangerine as well as our BioPerine Complex for enhanced absorption of key nutrients. Try Stored-Fat Belly Burner‡ today and put yourself on the path to a happier, healthier you!
What makes us different:
Liquid Soft Gels – The nutrients in these easy-to-swallow Liquid Soft-Gels are released fast. Other forms of delivery can contain binders and fillers that may cause stomach upset and offer no nutritional value. Advanced Liquid Softgels provide an optimum delivery system.
Quality Assurance – Irwin Naturals® is committed to providing the highest quality products for your health. We employ compliance testing to ensure purity and potency.
Patented BioPerine® – BioPerine® enhances the bioavailability, absorption and potency of many nutrients.
In a clinical study Sinetrol® showed a greater decrease in abdominal fat and reduction in circumference in the waist and hips as compared to placebo.
Suggested Use
(Adult) take three (3) liquid soft-gels twice a day with meals, preferably at breakfast and lunch. If caffeine keeps you up at night, dot no take this product in the evening since it contains natural caffeine.
Other Ingredients
Gelatin, purified water, glycerin, beeswax, soy lecithin,  annatto, titanium dioxide, turmeric, silicon dioxide, st. John's bread (carob) and sodium copper chlorophyllin.
Contains: Soy
No preservatives added.
Warnings
Do not use if safety seal is broken. This product contains natural caffeine may affect blood pressure and/or heart conditions. Check with your doctor before using this product if you are using medication or have any medical conditions, including heart disease and/or high blood pressure. It is recommended to limit additional caffeine intake while taking this product. Do not use if you may become pregnant, are pregnant or nursing. Do not exceed recommended daily intake. Not intended for use by persons under 18. Keep out of reach of children. Store in a cool, dry place.
(State of California Prop 65) This product contains a chemical known to the State of California to cause birth defects or other reproductive harm.
Disclaimer
While iHerb strives to ensure the accuracy of its product images and information, some manufacturing changes to packaging and/or ingredients may be pending update on our site. Although items may occasionally ship with alternate packaging, freshness is always guaranteed. We recommend that you read labels, warnings and directions of all products before use and not rely solely on the information provided by iHerb.
Compare Offers for Irwin Naturals Buffered Belly Fat Burner
Full Specifications
| | |
| --- | --- |
| Gender | Unisex |
| Type | Fat Burner |
| Primary Ingredient | Pepper Black |
| Food Form | Softgels |
| Capacity | 60 soft-gels |
| Manufacturer | Irwin Naturals |
| Count | 60 |
| Price Per Unit UOM | pill |
| Multipack Quantity | 1 |
| Model | IN058638 |
| Brand | Irwin Naturals |
| Body Part | Navel |
| Height | 4.70 |
| Number of Customer Ratings | 5 |
| PPU Quantity of Units | 60 |
| Recommended Use | Weight Loss |
| Vitamin & Supplement Type | Weight Loss Supplements |
| Fabric Content | 100% NA |
| UPC | 710363586386 |
| Product Name | Irwin Naturals Stored Fat Belly Burner, 60 Ct |
| Flavor | Unflavored |
| Depth | 2.55 |
| Units Per Consumer Unit | 1 |
| Form | Softgels |
| Manufacturer Part Number | IN058638 |
| Width | 2.55 |
| Fitness Goal | |
| Category | Diet & Weight Management |
| Features | No |
| Assembled Product Weight | 0.63 lb |
| Assembled Product Dimensions (L x W x H) | 2.50 x 2.50 x 4.75 Inches |
Watch video about Irwin Naturals Buffered Belly Fat Burner
NAD+ in Aging: Role of Nicotinamide Riboside and Nicotinamide Mononucleotide
In this episode, Rhonda explains what NAD+, why it is so important for aging and why it declines with age. She discusses some of the popular NAD+ boosters ...
The Natural State 104: (Q&A #8) - Are These Supplements Worth It? + Sunscreen Myths - Dr. Gustin
Chris Irvin, The Ketologist and Education Manager at Perfect Keto, and I are excited to bring you another Q&A episode -- the eighth one to date. We get a lot of ...
Please follow and like us: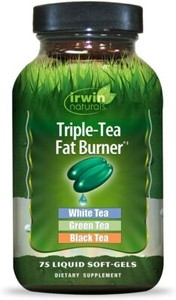 Irwin Natural Buffered Belly Fat Burner