High Waist Thigh Trimmer for Women
Hook and Loop closure

Size: S/M, L/XL, everyone can find the right choose, please measure waistline and read our size chart, if you are between 2 size, we recommend you choose the larger size.

Made of neoprene and polyester with high quality, comfortable to wear when you work out, can make you sweat and keep your abdomen warm
Last updated on 2021-09-11 11:35 am
High Waist Thigh Trimmer for Women
High Waist Thigh Trimmer is suitable for sports, running and weight lifting. Burn your stomach fat faster and maximize calorie burn during exercise with the waist trimmer tummy slimming belt.
Features:
-Made of comfortable, adjustable, stretchy fabric, flexible and durable, which means it is easy to clean, fits to your body, and will not pitch or irritate your skin.
-One piece, which helps increase blood circulation and support thighs, can be worn inside or outside the clothes as needed.
-The closure makes sure that the belt is fastened tightly around the abs. Our trimmer belt has a good amount of velcro to make people of many different sizes able to wear it easily.
-The trimmer belt is very stretchy in the right places and provides tons of support on your sides, back, and legs. Perfect for the exercises to make your enhance your figure Butt and Hips.
【Size】: S/M, L/XL, 2XL/3XL, everyone can find the right choose, please measure waistline and thigh read our size chart, if you are between 2 size, we recommend you choose the larger size. (If you feel compact during exercise, please readjust toa comfortable range)
【HIGH-QUALITY】: Butt lifter thigh trimmer is made of ultra-thick, latex-free neoprene material, which can increase heat build-up and ventilate sweat, Makes you sweat 3 times more than ever before.Our Thigh Waist Trimmer's grid inner lining willnot only repel moisture absorption but also limit slipping and bunching during your workout.
【EXCELLENT FITNESS ENHANCER】: 2 in 1 butt lifter and thigh trimmer is a Premier fitness enhancer strategically designed to lift your butt, trim your waist and Thigh, melt fat, and reduce water weight in key target areas of your core, waist, andthighs.
【HELPS RELIEVE HIPS, AND SCIATICA NERVE】: Our compression Support helps increase blood flow, easing muscle pain around the groin, hips and lower back Its gentle compression aids in swift, healthy recovery from aggravating groin, hip, thigh, andhamstring injuries. With adjustable straps, it sports a custom fit that maximizes comfort.
【BRINGS PERFECT SUITABILITY】: Support Hip Raise Belt for Women Firm is very comfortable to wear all day, and it can be put on and taken off quickly and easily. In addition, you can wear a thin groin apron under or over your clothes as needed. Cycling,running and using the elliptical machine in the sauna. Use the fitness kit when boating, training, and fitness.
Compare Offers for High Waist Thigh Trimmer
Full Specifications
| | |
| --- | --- |
| Brand | Ilfioreemio |
| Manufacturer | Ilfioreemio |
| Gender | Female |
Watch video about High Waist Thigh Trimmer
3 IN 1 WAIST TRAINER BUTT AND THIGH TRIMMER REVIEW
EXPAND FOR LINKS & CODES♡ ♡GET 2 IN 1 WASIT TRAINER HERE ...
Waist and thigh trimmer | Review
Link: https://www.amazon.com/gp/aw/d/B086DJNLWG?psc=1&ref=ppx_pop_mob_b_asin_title Hey guys welcome back to my Channel ! I will be posting at least ...
Please follow and like us:
3 reviews for
High Waist Thigh Trimmer for Women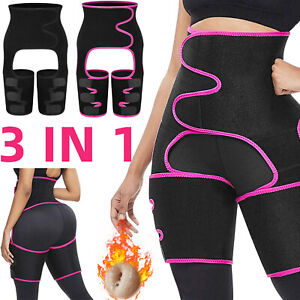 High Waist Thigh Trimmer for Women