Dr. Sinatra's Omega-3 Slim MAX
America's Integrative Cardiologist™
Support for Healthy Weight Loss and Overall Well-Being°
Dietary Supplement
Energy
Heart Health
Last updated on 2021-09-12 6:38 pm
Dr. Sinatra's Omega-3 Slim MAX
Dr. Sinatra's Omega-3 SLIM® MAX provides support for heart healthy weight loss and to help energy and overall well-being when combined with a resistance training regimen and a reduced calorie diet.
You can still lose weight while supporting your heart. A reduced calorie diet and daily exercise are key for reaching and maintaining a healthy weight, and a healthy heart! To help amplify your efforts, integrative cardiologist Dr. Stephen Sinatra developed decaffeinated Omega-3 SLIM MAX—a non-stimulating way to lose up to 2X the weight compared to exercise alone—by helping you shed pounds and shrink your waistline. It helps tackle the link between excess weight, heart health, and stress eating—helping shed pounds and inches, lowering stress, and supporting normal blood sugar levels.
Plus, helps curb emotional eating—which may have escalated in today's world, and can hinder your weight loss efforts! In a 24-week randomized, placebo-controlled, single-blind clinical study on Green Tea Phytosome, men and women, between ages 45–55, reduced their calorie intake per day by 1,000 and 750 calories, respectively. During the 24 weeks, the Greenselect Phytosome participants lost more weight than the control group. And, they experienced a reduction in BMI and waist circumference! Crominex 3+—Helps maintain healthy blood sugar levels and glycemic control. KSM-66 Ashwagandha—Helps reduce stress-induced cravings and emotional eating in overweight, stressed individuals and improves strength and endurance while helping to brighten your mood. You'll also get heart healthy omega-3 fats from CalaMarine oil. Plus, True Cinnamon Extract, vitamin D for the multiple roles it plays in your body, and iodine to support your thyroid.
Suggested Use
Take 2 softgels daily. Take 1 before a morning meal, and 1 before an afternoon meal.
Other Ingredients
Sunflower seed oil, gelatin, glycerin, yellow beeswax, carob extract, purified water, sunflower lecithin.
Contains: Milk.
Warnings
Unconditionally guaranteed for purity and labeled potency. Store bottle with cap tightly closed in a cool, dry place.
Precautions: Consult a health care practitioner before use if you are pregnant or nursing, have a serious medical condition, or use any medications.
Keep out of reach of children.
Disclaimer
While iHerb strives to ensure the accuracy of its product images and information, some manufacturing changes to packaging and/or ingredients may be pending update on our site. Although items may occasionally ship with alternate packaging, freshness is always guaranteed. We recommend that you read labels, warnings and directions of all products before use and not rely solely on the information provided by iHerb.

Compare Offers for Dr. Sinatra's Omega-3 Slim MAX
Full Specifications
Amount Per Serving
%Daily Value*
 Calories
5
Total Fat
0.5 g
<1%‡
Vitamin D (as cholecalciferol)
13 mg (520 IU)
65%
Iodine (as potassium iodide)
75 mcg
50%
Chromium (as Crominex® 3+ chromium stabilized with Capros® standardized amla extract (fruit), PrimaVie® purified and standardized Shilajit)
200 mcg
571%
Ashwagandha Extract (root) (KSM-66®)
300 mg
*
CalaMarine® Oil Concentrate (from squid)
250 mg
*
DHA (docosahexaenoic acid)
70 mg
*
EPA (eicosapentaenoic acid)
40 mg
*
Greenselect® Phytosome®
150 mg
*
Phosphatidylcholine (from sunflower)
Green Tea Extract (leaf, decaffeinated)
Cinnamon Extract (bark)
100 mg
*
Watch video about Dr. Sinatra's Omega-3 Slim MAX
Dr. Sinatra's Omega-3 SLIM Weight Loss and Heart Health Supplement, 60 softgels (30-day supply)
https://vitshopping.com/weight-loss/dr-sinatras-omega-3-slim-weight-loss-and-heart-health-supplement-60-softgels-30-day-supply/ CLINICALLY STUDIED, ...
User Review: Dr. Sinatra's Omega Q Plus– Omega-3 and CoQ10 Supplement Delivers Everyday Heart H...
https://www.amazon.com/dp/B016C42Q86?tag=yogafit0d-20 - Dr. Sinatra's Omega Q Plus– Omega-3 and CoQ10 Supplement Delivers Everyday Heart Health ...
Please follow and like us: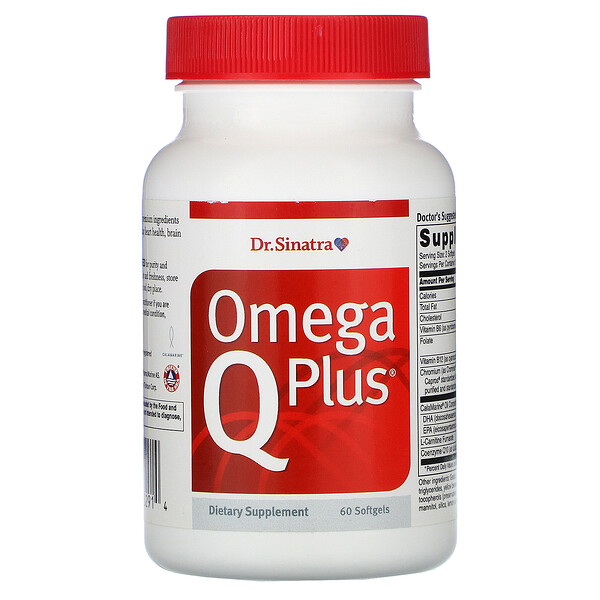 Dr. Sinatra's Omega-3 Slim MAX