ALLMAX Nutrition Rapidcuts Shredded
Sustained Release Thermogenics
Rapid Release Technology
Professional Grade Supplements
Dietary Supplement
Lab Tested – Every Ingredient
cGMP Registered Facility
Gluten Free
Last updated on 2021-10-12 8:24 pm
Rapidcuts Shredded is simply the strongest, most advanced and most comprehensive fat burning product we have ever produced. The science is undeniable and the results are truly impressive. Rapidcuts Shredded was created with a single focus; to create a formula specific to and exclusively for fat loss.
Rapidcuts Shredded is the extreme fat loss formula designed for men and women who are aiming for extreme competition level results. This is the most powerful and effective weight loss formula we have ever brought to market.
Pro-Competition Series Rapidcuts Shredded from ALLMAX is ideal for competitors who demand rapid and effective fat loss. Rapidcuts shredded has been based on the latest cutting-edge science. It provides comprehensive fat loss based on the Target, Release, Ignite system. The Pro-Competition Series of products from AllMax provides the highest level of performance for the highest levels of competition. Rapidcuts Shredded is ideal for 8-week programs and can be effectively integrated into any diet and cardio regimen.
Suggested Use
Recommended purpose: Weight loss supplement.
Take 1 capsule† 2 times daily. Take no more than 2 capsules in any 24 hour period. Researchers recommend you stay adequately hydrated, eat a healthy calorie reduced diet and exercise regularly for optimum results. Competition level cardio and dieting are recommended for extreme results. Discontinue use 2 weeks prior to any surgery. For optimum results use for a period of 8 weeks.
†Each Serving (1 capsule) contains 217 mg of total caffeine
Other Ingredients
Gelatin, vegetable stearate, silica, titanium dioxide, FD&C yellow #5, FD&C yellow #6, FD&C red #40, FD&C blue #1.
Allergen Warning: Produced in a facility that also handles milk, soy, egg, peanuts, tree nuts, fish and shellfish products.
Warnings
Consult a health care practitioner prior to use: if you have high blood pressure, glaucoma and/or detrusor instability, if you are of childbearing age, pregnant or breastfeeding. if you have diabetes, if you are taking lithium. Consumption with other caffeine-containing products is not recommended, or with natural health products which increase blood pressure is not recommended. This product is not intended as a substitute for sleep. Keep out of reach of children.
Disclaimer
While iHerb strives to ensure the accuracy of its product images and information, some manufacturing changes to packaging and/or ingredients may be pending update on our site. Although items may occasionally ship with alternate packaging, freshness is always guaranteed. We recommend that you read labels, warnings and directions of all products before use and not rely solely on the information provided by iHerb.
Compare Offers for ALLMAX Nutrition Rapidcuts Shredded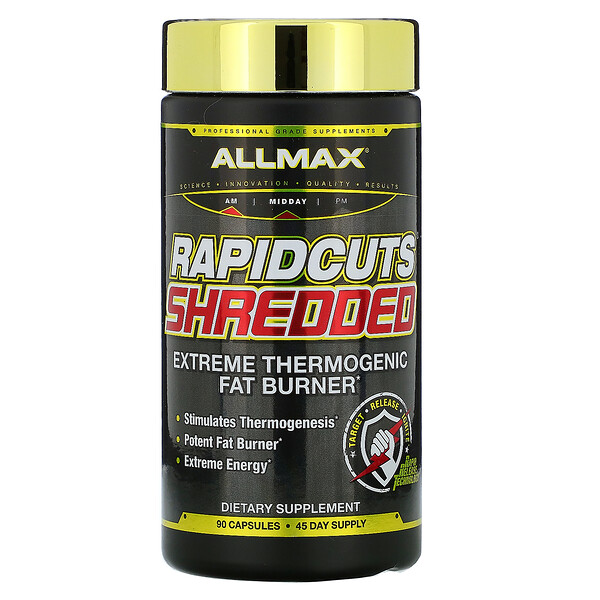 Iherb.com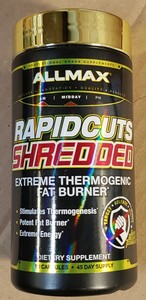 Ebay.com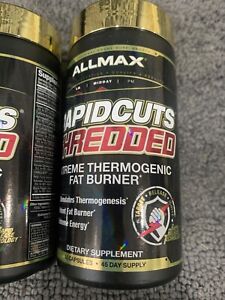 Ebay.com
Full Specifications
Amount Per Serving
%Daily Value
Niacin (as Niacinamide)
12 mg
75%
Selenium (as L-Selenomethionine)
43 mcg
78%
Chromium (as Chromium polynicotinate)
60 mcg
171%
Green Coffee (Coffea robusta, seed) extract
Std. for 45% Chlorogenic Acid, 10% 5-Caffeoylquinic Acid
200 mg
‡
Caffeine Anhydrous
190 mg
‡
Ashwagandha (Withania somnifera, root) extract
Std. for 2.5% Withanolide glycosides
63 mg
‡
Olive (Olea europaea, leaf) powder
30 mg
‡
Di-Caffeine Malate
27 mg
‡
Naturate Yerba Mate (Ilex parahuariensis, leaf)
extract Std. for 10% Caffeine
25 mg
‡
Green Tea (Camellia sinensis, leaf) extract
Std. for 50% EGCG (Epigallocatechin-3-gallate)
25 mg
‡
Naringin (as Grapefruit (Citrus paradisi, fruit) extract
19 mg
‡
Guarana (Paullinia cupana, seed) extract std. for 22% Caffeine
17 mg
‡
Hordenine HCl (N,N-Di-Methyl-Tyramine Hydrochloride)
16 mg
‡
Cayenne (Capsicum annum, fruit) extract
13 mg
‡
Korean Ginseng (Panax ginseng, root) extract
Std. for 80% Ginsenosides
12 mg
‡
Cinnulin PF (Cinnamomum burmannii, bark) extract (20:1)
10 mg
‡
Kelp (Fucus vesiculosis, whole) powder
5 mg
‡
Yohimbe (Pausinystalia yohimbe, bark) extract
Std. for 98% Yohimbe HCl (Hydrochloride)
4.5 mg
‡
N-Methyl-Tyramine HCl (Hydrochloride)
3.6 mg
‡
Black Pepper (Piper nigrum, fruit) extract
Std. for 95% Piperine
2.5 mg
‡
Watch video about ALLMAX Nutrition Rapidcuts Shredded
Allmax Rapid Cutz Shredded Review | Best Fat Destroyer
What's app 9999484687 to order supplements Follow me on Facebook - https://www.facebook.com/Avisim-Fitness-1993346834322826/ Instagram ...
Allmax Rapid Cuts Product Review - MensGarage.com
Adam from MensGarage.com giving product information on Allmax Nutritions Fat Burner Rapidcuts.
Please follow and like us: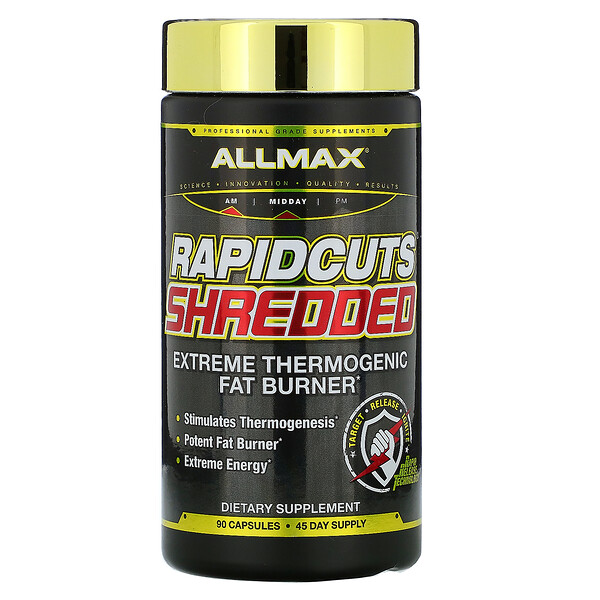 ALLMAX Nutrition Rapidcuts Shredded